Tire Maintenance Tips for Anderson Drivers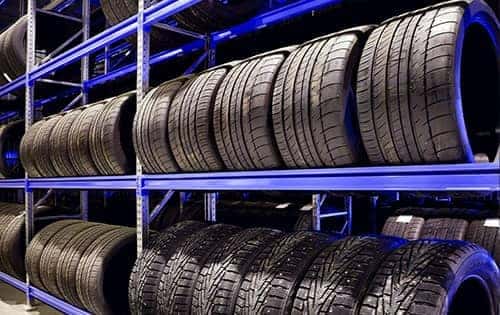 Tire maintenance is essential to keep your vehicle safe, efficient, and performing its best, but what can you do to keep your tires working their best? Find out here, and then make the trip to your Anderson and Chico area Chrysler dealership for a tire change in Redding, where we have a full lineup of new vehicles for sale!
How Long Do Car Tires Last?
The lifespan of your tires depends on a number of factors, including the quality of the tires, how well you maintain your tires, the way you drive your car, and the climate and roads where you drive. In general, though, most tires generally last for around 40,000-60,000 miles. In order to make sure your tires last as long as possible, make sure to bring your vehicle in for regular tire rotations and wheel alignments.
How to Put Air in Car Tires
The simplest thing you can do to make sure your tires is to make sure the tires stay pumped:
Use a tire pressure gauge to measure tire pressure (PSI)
Check the sidewall of the tires to see the recommended PSI.
Take out the valve caps
Use an air pump to inflate to recommended PSI.
How to Check for Tire Leaks
There are a number of different ways to locate a tire leak, but here's the easiest way to find out:
Inflate your tires to the recommended PSI indicated in the sidewall.
Inspect the tire to look for holes, cuts, nails, etc.
Feel for a leaks, cuts, and objects coming out of the tires.
Listen for a hissing sound coming out of the tires.
How to Measure Tire Tread Depth
Turn a penny upside down and put it into the tire tread. If you can see all of Lincoln's head, it's time to replace your tires.
Find New Tires Near Shasta Lake City at SJ Denham Chrysler Jeep Fiat
Looking for a trusted source for new tires and oil changes? Then make the trip to SJ Denham Chrysler Jeep Fiat, your Corning area auto dealer with a service department staffed by certified technicians.
---
More Car Maintenance Tips
Tire maintenance is one of the key aspects of responsible auto maintenance, and there are many things you can do to help extend the life of your tires, from tire rotations and wheel alignments to tire treatments. But you may be asking yourself, "How do I check tire tread wear?" Measuring tire tread is the…

With the Chrysler Uconnect® infotainment system, Anderson drivers enjoy a wide array of innovative tech features such as: Turn-by-turn Navigation Smartphone integration Bluetooth® phone and audio connectivity But like smartphones, computers, and other tech systems, it may occasionally require a reset. Learn how to reset your Chrysler Uconnect® in this guide from SJ Denham Chrysler Jeep FIAT. Schedule Service…

Tire maintenance is essential to keep your vehicle safe, efficient, and performing its best, but what can you do to keep your tires working their best? Find out here, and then make the trip to your Anderson and Chico area Chrysler dealership for a tire change in Redding, where we have a full lineup of…