How Long Can You Drive on a Spare Tire?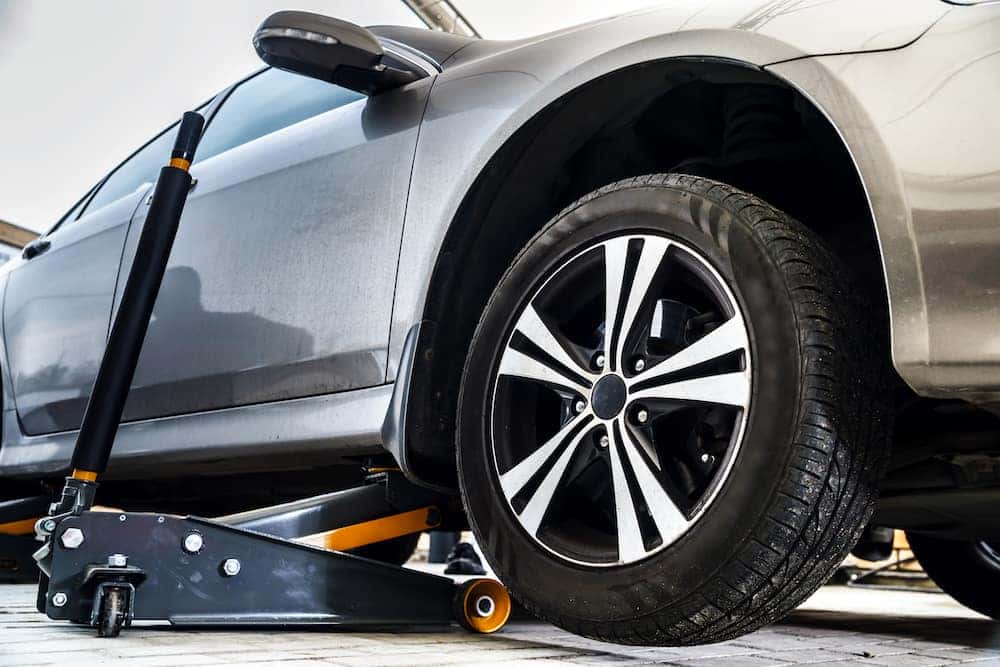 The short answer is: not that long. If you're driving on a spare tire, you'll want to replace your spare tire as soon as you can. However, the actual mileage amount you can drive on it depends on what kind of spare you have. Most small, space-saver tires require you to replace them within 70 miles of driving at most. You get more time and mileage on a full-size spare, if you have one.
How Long to Drive on a Space-Saver Spare Tire
If you're out near Anderson and get a flat, and you find that your spare tire is smaller than your normal tires, you have a space-saver spare. Also called a "donut" spare, these tires are included on many new vehicles and come with important restrictions to keep in mind:
They cannot be driven over 50 miles per hour
They shouldn't be driven for more than 70 miles
They have less traction than with a full-size spare
Your space-saver spare will list any additional usage restrictions on the tire itself. You'll want to quickly get to the nearest service center to repair your old tire or purchase a new one.
How Long to Drive on a Full-Size Spare
New trucks and SUVs often come with full-size spares. If you have a full-size spare, you can drive on it longer than a space-saver; however, you'll still want to get it replaced as soon as possible for a few reasons:
It probably isn't the same brand as your other tires and could lead to poor traction and/or handling
It will have different wear than your other tires, leading to imbalance.
If you need a spare for a longer period of time, a full-size will help you get the job done. But you don't want to make driving on a full-size spare a habit.
How Long to Drive on a Run-Flat Tire
A run-flat tire is a tire that can maintain pressure even after it's punctured. If you don't have a spare, you could drive on a run-flat tire for a very limited amount of time. Here are some things to keep in mind when driving on a run-flat tire:
Run-flat tires remain inflated for about 50 miles following a puncture
They are tougher than a space-saver or full-size spare
They often cost more than your standard tire
If your tire pressure monitor shows your tires are running low on air and you have run-flat tires, stop the car and look at your tires. If there's a visible puncture on your run-flat tire, you shouldn't delay replacing it. Head to your local Chico-area service center to repair or replace the tire.
Visit Our Tire Center in Redding
For help on maintaining your tires or your car in general, even to read the new FIAT 500 reviews, contact SJ Denham Chrysler Jeep FIAT, located a short drive from Red Bluff. Our new tires are designed to fit your vehicle along with a range of Chrysler Jeep FIAT performance parts. Any other questions, including what an alternator does or about financial matters like gap insurance? Contact us today.
---
Car Repair Coupons
We are currently updating our Specials. Please check back soon.
---
Car Maintenance Tips
Tire maintenance is one of the key aspects of responsible auto maintenance, and there are many things you can do to help extend the life of your tires, from tire rotations and wheel alignments to tire treatments. But you may be asking yourself, "How do I check tire tread wear?" Measuring tire tread is the…

With the Chrysler Uconnect® infotainment system, Anderson drivers enjoy a wide array of innovative tech features such as: Turn-by-turn Navigation Smartphone integration Bluetooth® phone and audio connectivity But like smartphones, computers, and other tech systems, it may occasionally require a reset. Learn how to reset your Chrysler Uconnect® in this guide from SJ Denham Chrysler Jeep FIAT. Schedule Service…

Tire maintenance is essential to keep your vehicle safe, efficient, and performing its best, but what can you do to keep your tires working their best? Find out here, and then make the trip to your Anderson and Chico area Chrysler dealership for a tire change in Redding, where we have a full lineup of…