How to Check Tire Tread Depth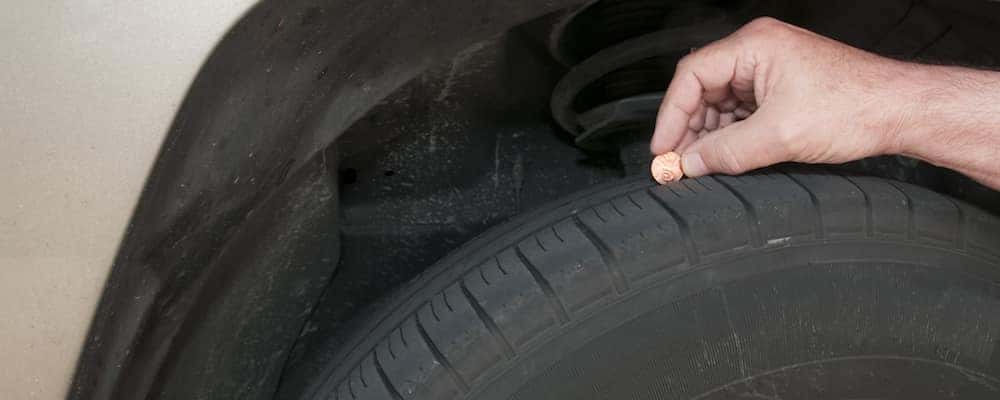 Tire maintenance is one of the key aspects of responsible auto maintenance, and there are many things you can do to help extend the life of your tires, from tire rotations and wheel alignments to tire treatments. But you may be asking yourself, "How do I check tire tread wear?" Measuring tire tread is the easiest way to tell if you have aging tires. Use this guide from the Chrysler service team near Chico at SJ Denham Chrysler Jeep FIAT in Redding to see if it's time to replace yours.
What is Tire Tread?
Tire tread is the rubber surface of the tire that makes contact with the road or ground and provides your vehicle with traction. As a tire wears down, the tread wears down. But how do you know when it's time for a new set of tires?
How Do I Check Tire Tread Wear?
New tires usually come with 10/32" or 11/32" tread depths, and when they get down to 2/32" it's time for a new set of tires. There are several different methods you can use to check your tread wear, including:
Penny Test – The most well-known way to check your tire tread is the tried-and-true "penny test." All you have to do is take a penny, turn it upside down, and place it into the gap between the tread ribs. If you can see the top of Lincoln's head when it's upside down, you should get your tires replaced.
Tread Depth Gauge – You can also head to your local auto parts store to buy a tread depth gauge. Tire tread depth gauges are able to measure tread depth in 32nds of an inch and millimeters and will give you a clear sense of how much tire tread you have left before you reach 2/32" and need a new set.
Tread Wear Indicator Bars – Some sets of tires also come with tread wear indicators, a small rubber strip the runs between the tread ribs in some spots. When your tire tread is even with this strip, it's an indicator you need new tires.
Come in for a Tire Change Near Red Bluff!
Avoid having to drive on a spare tire by making the trip from Anderson to the SJ Denham Chrysler Jeep FIAT service center when it's time to replace your tires. We have plenty of service specials going on at all times, and you can contact us to schedule a service appointment today! Have any more maintenance questions? Learn how much an oil change costs and how often to change your oil with SJ Denham Chrysler Jeep FIAT!
Related Posts from SJ Denham Chrysler Jeep FIAT
Tire maintenance is one of the key aspects of responsible auto maintenance, and there are many things you can do to help extend the life of your tires, from tire rotations and wheel alignments to tire treatments. But you may be asking yourself, "How do I check tire tread wear?" Measuring tire tread is the…

With the Chrysler Uconnect® infotainment system, Anderson drivers enjoy a wide array of innovative tech features such as: Turn-by-turn Navigation Smartphone integration Bluetooth® phone and audio connectivity But like smartphones, computers, and other tech systems, it may occasionally require a reset. Learn how to reset your Chrysler Uconnect® in this guide from SJ Denham Chrysler Jeep FIAT. Schedule Service…

Tire maintenance is essential to keep your vehicle safe, efficient, and performing its best, but what can you do to keep your tires working their best? Find out here, and then make the trip to your Anderson and Chico area Chrysler dealership for a tire change in Redding, where we have a full lineup of…